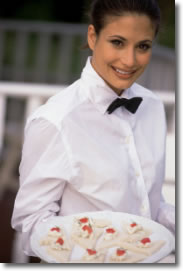 So you're serious about starting your own catering business?
There's a lot to think about…
There is an element of risk in starting any business. Eliminating that risk through knowledge and planning will lead to your success in the catering business.
As you can see from the table of contents below, this extensive kit has everything you will need to get your business off the ground and running. The kit has been written to provide you with the latest information necessary to start a catering business.

Table of Contents:
Introduction
Decisions for Starting a Catering Business

Caterers' Qualifications and Skills
Complying with City Ordinances
Working with Your Local Health Department
On-Premises Catering Vs. Off-Premises Catering
Sharing or Renting a Kitchen
Required Equipment
Start-Up Coverage
Setting up your business:

Setting Up Your Pantry

Smallwares and Utensils
Finding Used Equipment
Establishing a Menu
Setting Up a Kitchen
Service Equipment
Types of Catering Opportunities

Social Catering

Corporate Catering

Community Affairs

Special Events

Kosher Catering

Wine and Bar Service
Event Management
Organizing Your Time and the Party Setup
Managing an Event from Introduction to Conclusion
How to Estimate the Food Quantities
Floral, Decor, and Subcontractors' Services
Scheduling Staff and Assistants
Hiring Versus Leasing Employees
Outsourcing Entertainment
Marketing your business
Defining Your Niche
How to Get Business
Putting Together a Promotional Kit
Getting Referrals and Repeat Business
How to Advertise your business
Tracking Your Success
Sales
Written Agreements and Contracts
How Much to Charge
Closing the Deal
Keeping a Portfolio
Running your business
Estimating Quantities, and Writing Proposals
Calculating Your Kitchen Labor
Making and Food Presentation
Beverages and Alcohol
Public Service Perishable Food Distribution
Establishing Relationships with Wholesale Purveyors
Insurance Suggestions
Product Liability Insurance
Public Liability Insurance
Workers' Compensation Insurance
Growing your business

Employing Family and Friends
Food Handling and Sanitation
Appendix
Professional Organizations
Other Resources
BONUS RECIPES
Hors d'Oeuvres

Appetizers

Soups

Entrées

Vegetables

Potatoes, Pasta, Grains

Salads

Desserts

The Starting a Catering Business Start-Up Guide Kit™ also includes all of the necessary forms that are needed to operate a catering business including many financial forms, sample business letters and a complete business plan.
Click here to find out how to order!

Starting a Catering Business
1563 Solano Ave., #306
Berkeley, California 94707
Copyright All rights reserved.